Denton Reads is an organization whose goal is to unite the City of Denton by reading one book and promoting discussions of a common text. The book chosen for 2007 is The Legacy of Luna: the Story of a Tree, a Woman, and the Struggle to Save the Redwoods by Julia Butterfly Hill.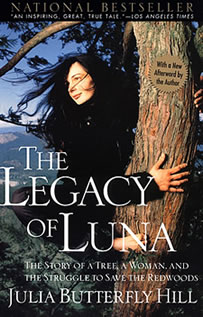 The author will be visiting Denton to speak about her book on Earth Day, April 22, 2007.
Get the whole family involved! There are activites planned for all ages, as well as age-appropriate books featuring this year's environment-centered theme. Dr. Seuss's The Lorax has been selected for young children, and Carl Hiaasen's HOOT for intermediate readers.